Welcome to the Denver Fisher House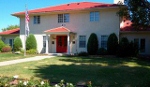 Denver Fisher House
We are proud to be a part of the Fisher House Foundation whose CEO, Ken Fisher, stepped up within 24 hours of the government shutdown and said the Fisher House Foundation would pay the death benefits of the heroes who lost their lives in Afghanistan during the shutdown.
We provide a "home away from home" for military families to be close to a loved one during hospitalization for an illness, disease or injury. Families do not pay to stay at a Fisher House.
US News & World Report recently released its inaugural rankings of the best schools for veterans. Check out the list.

http://t.co/ZVghEB4Bdp

A CNN investigation found that delayed care at U.S. veterans hospitals is causing more military veteran deaths.

http://t.co/JUOhteiNHs
"Operation Second House"
Provided byFund-Raising-Ideas-Center.com
For information regarding housing or providing dinner for our guests at Denver Fisher House contact Joy at:
Joy.Weyna-King@va.gov or call 1-303-364-4616 or Toll Free 1-888-336-8262 ext. 2049
For information regarding volunteering at Denver Fisher House or for special events contact Maggie at:
MKirchner@DenverFisherHouse.org or call 1-303-632-7319 on Tuesday and Wednesday 9:30-3:30.
For information regarding donations or fundraisers for Denver Fisher House contact Melanie at:
MStarkman@DenverFisherHouse.org or call 1-303-632-7319 on Tuesday and Wednesday 9am-4pm, or Friday 9am-1pm
Check donations should be made out to:
Denver Fisher House Foundation
14001 E Iliff Ave., Suite 210
Aurora, CO 80014
Please designate either general or building fund on your check.